For those who have just started or simply don't want to spend, there are several websites that offer their services for free. Obviously this will involve limitations , such as the insertion of advertisements (more or less invasive) during the video playback.
For the rest, I do not report any particularly heavy defect that could ruin your vision, although I will still express my opinion on the matter.
Crunchyroll
Impossible not to mention Crunchyroll , which many of you have already heard of. At the moment it remains one of the most solid options in the whole world , and not only in Italy. Based on my experience, I can say that I am quite satisfied with Crunchyroll, which will not even force you to create an account . However, I suggest you create one to mark the series and maybe why not, move on to the premium plan .
Going back to the free plan, advertising bothered me enough . A video contains a total of 3 advertisements , placed at the beginning, in the middle and at the end. Unless you want to skip the closing credits ( do not do it ) you will only have to see 2 advertisements in total lasting about 5 minutes.
However, as said by some, this type of advertising reflects the Japanese one , so yes, in fact you would have an experience very similar to that of Japanese television. Personally, I found the advertisements quite annoying , but I don't complain too much since they serve to keep the service active .
The community is not too bad, although I have always avoided excessive contact with online communities. If you are looking for human "contact" then you can definitely consider the Crunchyroll option, which is not as obvious as it seems.
VVVVID
If Crunchyroll wasn't enough , we also have a completely Italian service, known as VVVVID . Again there will be several advertisements while watching the video, which never exceed 3 and they seemed less invasive than Crunchyroll.
It is possible to skip them completely if you are connected from a PlayStation 4 , but I have never tried with other devices. The general rule is that advertising will be reproduced whenever possible, even if in recent times I have seen fewer and fewer of them from desktop.
Speaking of the VVVID offer, I am quite satisfied with the catalog it has. In fact, I was able to recover Ping Pong: The Animation without any problems and also Mobile Suit Gundam , which I mention because they are the first examples of value that came to my mind.
Obviously there is much more, and sometimes in the form of exclusive thunderstorms , therefore available only for a certain period of time.
However, I have encountered various defects while using this platform . For example, the absence of the search bar and a generally vague and poorly constructed interface.
Summing up, VVVVID is an excellent Italian streaming platform with some inaccuracies that can hinder the use of souls.
Yamato Animation
In this case we are not talking about a website but a YouTube channel . The videos are also available in Italian and the Yamato Video catalog can be found almost in its entirety.
Needless to say, it is only a comfortable enough option to watch only a very limited number of titles. I mention it anyway because it is an official channel and in any case it presents just a few series like Holly and Benji that might interest you.
Popcorn TV
Another completely free and Italian service that could promise well in the near future. It is not as provided as the other competitors but includes older and historically relevant series, such as Toradora .
Here too there is an app for both iOS and Android. I was really disappointed by the interface of the Anime and manga section , which is very little cared for by the desktop and smells too much of "stock". But leaving aside for a moment the convenience, I still mention this option in case you want to take a look.
Mediaset Play
Another option available is the online service of Mediaset , which proved to be quite satisfactory. Although he doesn't know who he is, he is an excellent alternative to recover Dragon Ball Super in Italian.
For nostalgic fans I also point out Doraemon , Kiss Me Licia and Magica, Magica Emi . Instead, I was disappointed that Capricciosa Orange Road is not yet in the catalog, although it will probably be included in the future.
This is another reason why I feel in the mood to recommend this platform, besides the fact that it includes Dororoand Maquia . I am sorry that the catalog is still being updated and does not have the same opportunities as other platforms, but it is an excellent service .
My favorite option is the one that allows you to view the voice actors of each character with the relevant information , which is no small thing given the particular attention that voice actors have in the world of Japanese animation.
Among the definitely recommended series I must necessarily mention Cowboy Bebop , Mobile Suit Gundam , Dororo , Vinland Saga and Banana Fish , although there is much more that deserves attention.
Netflix
Yes, the famous online streaming service also includes animated series. You should have noticed this for quite some time, but it's always worth remembering.
Netflix offers a respectable catalog that will allow novices to retrieve some medium's must . Also for this reason I feel in the mood to recommend it, it is truly accessible to anyone!
Full Metal Alchemist: Brotherhood and Neon Genesis Evangelion are two excellent examples of series that you must necessarily recover. Be careful though, the Evangelion serieshasn't really undergone a clean treatment, but hey, it's the only way to legally see it in Italian.
Psycho Pass , Death Note and Steins; Gate are the examples that I can bring you to start, even if I would recommend the original works of the last two, rather. Having said that, I also recommend The Attack of the Giants and One Punch Man , which have always proved to be excellent series for novices (and not).
Netflix also boasts exclusive series such as Devilman Crybaby and Castlevania, which are respectable. I absolutely recommend the first one even if it is not suitable for everyone given its particularly avant-garde style.
Sore point: the Italian voiceovers , which are really, but really low quality. You may have heard several complaints about Netflix's TV series, but that's not all: even Netflix's dubbing is mediocre . Fortunately for you, you will have the opportunity to select another language!
What can I say, with a catalog full of old but also modern series Netflix definitely wins a high position in the ranking of the best platforms.
By the way, 21 films by Studio Ghibli have also been added not long ago , great classics that cannot be missing from your cultural background. Specifically, I recommend you to see Nausicaä of the valley of the wind and Il castello nel cielo , two great classics of animation that have inspired many other works. Almost every film of those included is excellent, except for a few exceptions, which I will not analyze in this article.
The real problem is the licenses, as Netflix has removed many anime like Cowboy Bebop and Gurren Lagann. Not a problem however, many of the removed series are fortunately recoverable on the other platforms!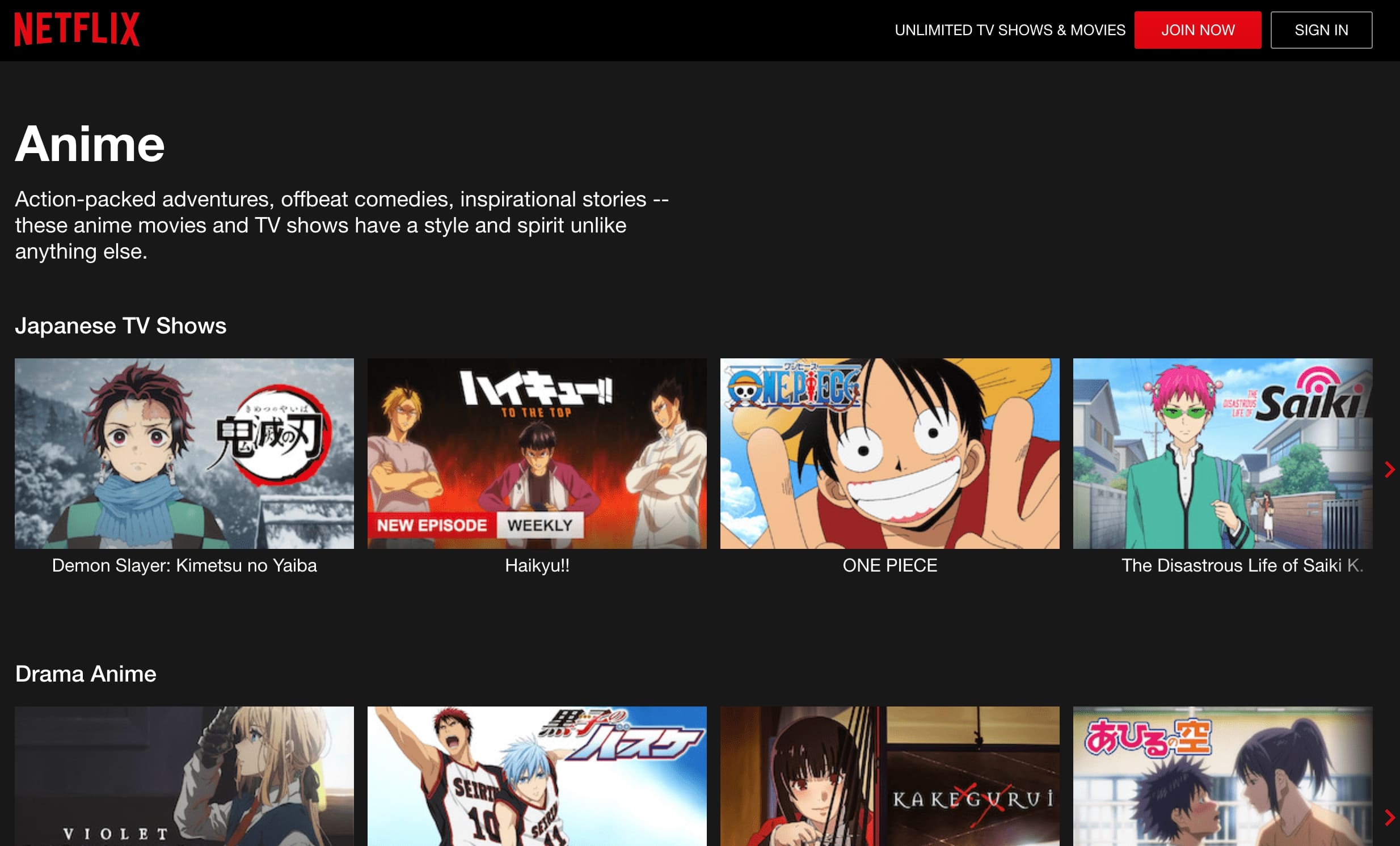 Premium Crunchyroll
I find myself citing Crunchyrol there again , how strange . There are two paid versions that will be offered to you: Premium Membership and Premium + Membership .
To be honest, the real difference lies in the fact that the second package gives access to exclusive material on the platform , such as early access to beta functions and more. I don't think you care very honestly.
But what actually changes compared to the free version? First I would say the absence of ads and Full HDresolution , as well as the possibility of streaming on every possible device. Impossible not to mention the juiciest bonus of Crunchyroll, namely the Simulcast / Simulpub , the possibility to see or read the latest anime and manga simultaneously with Japan .
For example, the Simulcast 2020 lineup includes series such as Tower ofGod and Digimon Adventure: (2020), which I recommend among the proposed series. Honestly, the 2020 offer is not so tempting at the moment, so the real advantage of Crunchyroll Premium lies more in the FULL HD resolution and the absence of ads when playing videos.
In addition, I also mention the presence of the Crunchyroll Originals series , a beautiful initiative that brings together those souls where Crunchyroll participated in the production or at least collaborated. At the moment the catalog of original titles is still small , but Tower of God falls into this category, so you will have to use Crunchyroll to see it legally!
I recommend the Premium Membership package , so the first one I mentioned, which only costs 4.99 per month . Not bad, considering that you will also have some little snacks on the platform store. Also avoid the other package that does not add anything concrete and costs 8.99!
The final verdict
So, I have analyzed the main platforms that I consider most interesting or in any case better on a practical level. I could have mentioned others, but you probably wouldn't use them since in Italy it is more convenient to take advantage of the usual services known as Netflix and Amazon Prime Video.
Both Crunchyroll and VVVVID are excellent free services and it depends on your tastes which of the two you want to choose, even if you should first view the offer of both. For me VVVVID has serious UI problems since it doesn't even have a search bar
Turning to paid services, the choice is rather difficult. Subscribing to Netflix only for anime is perhaps a bit limiting, but it must also be said that many share the costs of the service with friends or relatives and that it has a significant market share in Italy.
Amazon Prime Video remains a choice not yet too deeply rooted in the minds of Italians , but I assure you that it is worth considering it, since many of you will also have Amazon Prime active, probably. If souls weren't enough, you will still have access to exclusive TV series really not bad , so think about it.
I hope this article has made you understand how much the anime supply has increased in recent years and how important it is to finance how we can grow this sector. It is not at all easy to give up piracy for many people, but at least you can take advantage of quality services at an excellent resolution and without advertising of doubtful taste.